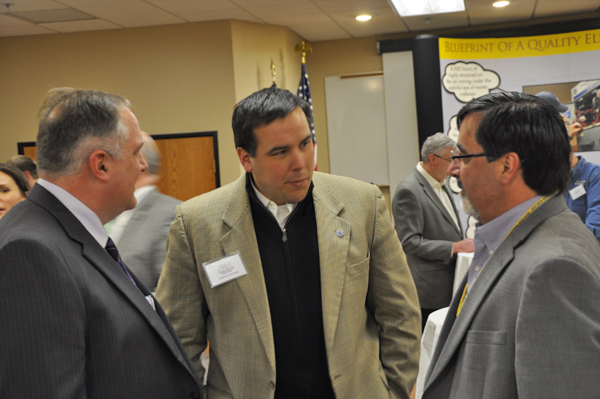 Nearly 150 people attended the first-ever Open House hosted by the Columbus/Central Ohio Building and Construction Trades Council on Feb. 10.
City, county, and state officials mingled with representatives from many of the 18 different trades the Columbus Building Council represents. The Council covers the central Ohio counties of Franklin, Delaware, Fairfield, Fayette, Licking, Madison, Marion, Pickaway and Union.
The idea for such an event came from an Organizing Committee, in part to alert people the Council had relocated its office to the building on Goodale Boulevard, explained Executive Secretary-Treasurer Dorsey Hager.
"We wanted this to be an informal event," Hager said. "But we felt it was important that people have the opportunity to get an idea of what we do and meet the people who are building and re-building Columbus and all of Central Ohio."
Many of the local building trades set up informational stations to discuss and promote their work.
A lunch spread of assorted sandwiches, chips, and cookies was available, which provided another informal location for conversations about what sets the union construction trades apart, like apprenticeships, ongoing journeymen training, drug free workplace and recruiting the next generation of union construction workers.
"We can provide a fast and direct path to the middle class," Hager said during his brief remarks to the crowd. "It's one of the best things we have to offer."
Hager said he was extremely pleased with the turnout. Planning is already underway for a second event, to be held this July at the United Association of Plumbers and Pipefitters Local 189 Union Hall.