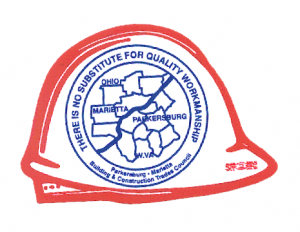 The Parkersburg-Marietta Building and Construction Trades Council is an organization comprised of local construction unions and their members who work in eight West Virginia counties and eight Ohio counties.
Business Manager Bill Hutchinson leads this multi-state organization that aids and assists all affiliated local unions in the building and construction trades industry by helping them improve wages, hours and working conditions through the process of collective bargaining, while promoting Labor-Management and the development of a more harmonious feeling between employers and employees, and promoting the development of safety and health programs.
Members from 57 Locals and Trade Councils fall under PMBCTC jurisdiction in the following Ohio counties: Athens, Meigs, Monroe, Morgan, Muskingum, Noble, Perry, and Washington.
By receiving apprenticeship training and journeymen upgrade courses at state-of-the-art training centers, the region's tradesmen and tradeswomen work safely and efficiently, while producing quality work at a value to the project owner.