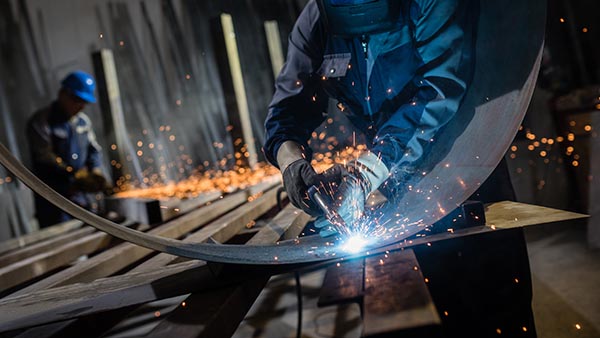 Sheet metal workers fabricate or install products that are made from thin metal sheets, such as ducts used in heating and air conditioning systems. They fabricate, install and service heating, venting, and air conditioning (HVAC) systems; blowpipe
and industrial systems; metal roofing; coping and flashing; and stainless steel work for restaurants, kitchens and hospitals. They prepare shop and field drawings manually and with computer programs.
In their Ohio training centers, Sheet Metal apprentices will typically learn to:
Select types of sheet metal according to plans
Measure and mark dimensions and reference lines on metal sheets
Drill holes in metal for screws, bolts, and rivets
Install metal sheets with supportive frameworks
Fabricate or alter parts at construction sites
Maneuver and anchor large sheet metal parts
Fasten seams or joints by welding, bolting, riveting, or soldering
Sheet metal is thin steel, aluminum, or other alloyed metal that is used in both manufacturing and construction. Sheet metal is commonly used to make ducts for heating and air conditioning systems, but it is also used to make products such as rain gutters, outdoor signs, and siding.
In addition to installing sheet metal, some workers install nonmetallic materials such as fiberglass and plastic board.