The Tri-County Building Trades have served Medina, Portage and Summit counties since 1937. During that time, they have consistently proven to have the most highly trained and highly skilled construction workers in their region.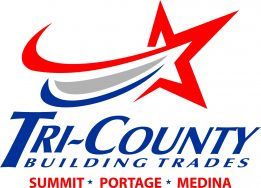 Local entities have come to understand the value of using Tri-County members on their projects, leading to the signing of more than 20 Project Labor Agreements.
By showing project owners the value of union construction, the TCBCTC has helped reshape the area's landscape, constructing schools, bridges, stadiums, medical facilities, government buildings and many other venues.
Council President Mark Douglas worked with the City of Akron to help them create one of Ohio's most comprehensive contractor registration ordinances, which will help assure all contractors are not only paying their fair share of taxes, but helping the city to collect what they are rightfully owed.
Members of the Tri-County Building Trades receive training at state-of-the-art training facilities, where they not only learn the latest safety standards, but also the latest construction technologies and techniques.