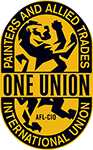 Glaziers are part of The International Union of Painters and Allied Trades (IUPAT), which represents a growing force of over 160,000 active and retired men and women in the United States and Canada.  Their members work in the Finishing Trades as industrial and commercial painters, drywall finishers, wall coverers, glaziers, glass workers, floor covering installers, sign makers, display workers, convention and show decorators and in many more exciting occupations. IUPAT members' skills are in high demand at every construction project in North America.
The IUPAT membership extends far beyond the workplace, however. Recognized as one of the most active unions in the labor movement, IUPAT members help shape their communities in many ways: through an abiding commitment to service, by fighting passionately for workers' rights that benefit all working families, and through effective and aggressive political mobilization.
Originally founded as the Brotherhood of Painters and Decorators of America in 1887, IUPAT members have followed the mantra: "Single-handed we can accomplish nothing; but united there is no power of wrong we may not openly defy."
IUPAT members are dedicated to making the communities in which they live and work stronger. Every day, they are striving to provide comfort and opportunity through programs like the Painters and Allied Trades for Children's Hope Foundation and our Community Organizing for Real Economics Initiative.
Members are eligible for exclusive benefits such as healthcare and retirement, and a number of services including, but not limited to, finance, education and legal services.
Headquarters
IUPAT District Council 6
8257 Dow Cir.
Strongsville, OH 44136
Phone: 440-239-4575
iupat-dc6.org
Business Manager/Secretary-Treasurer: Jim Sherwood
Assistant Business Manager/Secretary-Treasurer
and Director of Service: Lou Ferrante
The International Union of Painters and Allied Trades
7234 Parkway Drive
Hanover, MD 21076
Phone: 410-564-5900
iupat.org
General President: Kenneth E. Rigmaiden
General Secretary-Treasurer: George Galis