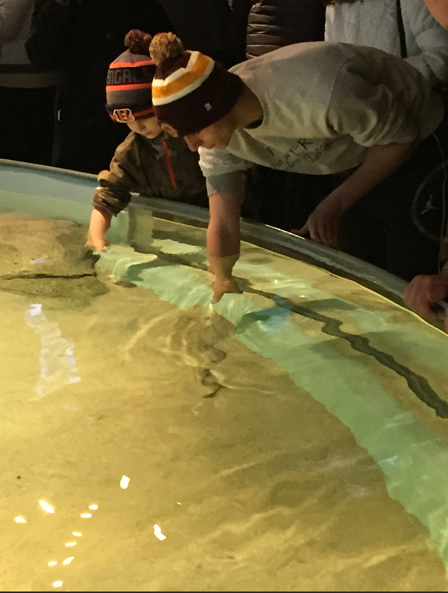 On March 27, Toledo Zoo and local community leaders cut the ceremonial ribbon for the grand re-opening of the Toledo Zoo Aquarium in front of a crowd of hundreds, including the members of the Northwest Ohio Building and Construction Trades that helped make the renovation a success.
Built in the late 1930s, the former Aquarium was small and cramped, with limited space to view the marine life. Over a complete $25.5 million renovation that lasted two and half years, Toledo area tradesman turned the building turned into a modern, artistic aquarium that received rave reviews from the first official visitors since October 2012.
The most obvious change to the Aquarium is the expanded tank space. Workers quadrupled the exhibit space to 178,000 gallons. Prior to the renovation, the biggest exhibit was 7,600 gallons. Today, the largest tank holds about 90,000 gallons and features a two-story viewing window.
In addition to increasing exhibit space, Toledo's tradesmen and women played a key role in installing the mechanical systems, marine life support systems, and all the plumbing in the historic building.
One of the most notable enhancements construction crews made was to install new lighting systems designed to keep the fish healthy and display their habitat in a completely natural color.
The trades also played a large role in getting the filtration systems up and running. Several tanks are interactive and allow the public to touch the marine life. State-of-the-art filtration systems help to decontaminate the tank from skin bacteria, oil, and other environmental hazards introduced through human contact in order to keep the fish healthy.
As part of the Aquarium project, crews also completely rebuilt the penguin exhibit, which is connected to the building.
"Our crews did a great job on this project," said Shaun Enright, Executive Secretary of the Northwest Ohio Building and Construction Trades Council. "This was such a unique experience. Those who worked on this job can take their children or grandchildren to the aquarium and tell them that they helped build it."