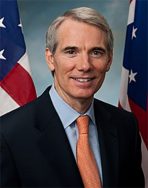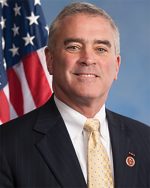 On Feb. 23, U.S. Senator Rob Portman (at far left, R-OH) and Rep. Brad Wenstrup (at left, R-OH), met with representatives from the U.S. Department of Energy (DOE), the Ohio EPA, the Southern Ohio Diversification Initiative (SODI), the Site Specific Advisory Board (SSAB), and local and state elected officials to discuss the future of cleanup activities at the Portsmouth Gaseous Diffusion Plant. The meeting culminated in Sen. Portman presenting a letter from the DOE Department of Environmental Management to the Director of the Ohio EPA, Craig Butler, detailing its commitment to excavate and consolidate the plumes located within Perimeter Road within the disposal cell.
Mark Johnson, Executive Secretary of the Tri-State Building and Construction Trades Council said Sen. Portman has been instrumental in moving the project forward. ""Senator Portman has become our go-to guy in Washington when it comes to issues concerning the Portsmouth DOE project. He and his staff have always been the voice of our concerns at this huge federal facility."
Johnson went on to say that the DOE and Ohio EPA agreement will result in more work for the Building Trades.  "Sen. Portman's efforts will amount to many additional man-hours of work for the building trades membership. I simply can't thank Senator Portman enough for standing with us on the contentious disposal cell issue while others were not so supportive".
Sen. Portman released a statement on Feb. 23, saying "The cleanup and redevelopment of the Portsmouth Gaseous Diffusion Plant is critical for jobs, economic development, and the future of southern Ohio. Over the last year I've spoken to Secretary Perry about the importance of cleaning up landfills and plumes at the site, and I'm proud that DOE made that commitment today. This commitment is now legally enforceable, makes the site safer, and will allow the entire site to be redeveloped to benefit the community. I will continue to work with my colleagues and the administration to secure the funding necessary to get the site cleaned up and ready for redevelopment."