Hundreds of people attended the Northwest Ohio Piping Industry/UA Local 50's Industry Day on April 22 to learn more about what the organization is doing to move its regional construction trades forward.
The event, held at the state-of-the-art Piping Industry Training Center in Northwood, Ohio, showcased the impressive training facility to the many elected officials, contractors, industry professionals, and media members who attended this special day.
Industry Day was held in conjunction with the 2015 UA State Apprenticeship Competition, where Ohio's best of the best plumbers, pipefitters, welders, HVAC-R service mechanics and sprinklerfitters vied for the chance to represent their Local and trade in the upcoming Regional Competition.
"It was a great day for the Piping Industry," said UA Local 50 Business Manager Scott Lopez. "A lot of people came out to our facility and learned about what we do and saw the skills we teach our apprentices."
Those who attended saw firsthand just how committed the Piping Industry and UA Local 50 are to both excellence and safety. Attendees received tours of the PITC and learned about the rigorous classroom education and jobsite training apprentices must go through before receiving their journeyman card. Furthermore, they also learned about the many continuous training opportunities available to the tradesmen in order to help them remain among the best at what they do.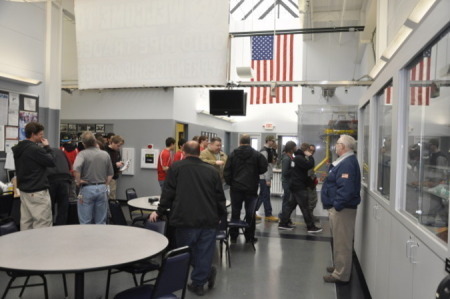 It is because of this commitment to excellence that the Piping Industry's tradesmen are the best in Northwest Ohio.
Throughout the apprenticeship competition and tours, there was great emphasis placed on safety. Guests were educated on the numerous mandatory safety classes UA members must take in order to remain certified to work on jobsites. This safety training not only keeps members of Local 50 safe, but also is a huge benefit to those who employee the union's members by knowing their jobs will be completed on time and on budget.
"I hope those who attended have a greater appreciation for what the men and women of the Piping Industry do each day – their training and dedication make them the best in their field," added Lopez.