The Northwest Ohio Building Trades Council hosts the inaugural Fallen Trades Memorial Fundraiser to benefit the Tribute Park Fallen Trades Memorial.
The Northwest Ohio Building Trades will commemorate this Workers' Memorial Weekend with a fundraiser to benefit the maintenance and upgrades to the Fallen Trades Memorial in Toledo's Tribute Park. Ohio Building Trades members from across the state will attend the first annual fundraiser, which takes place at 6 p.m. Friday, April 26, 2019 at the Northwest Ohio Building Trades and Construction Trades Council.
NWOBTC Executive Secretary Shaun Enright has led the campaign to relocate the council's headquarters behind the Tribute Park Memorial. In 2018, Enright formed the Fallen Trades Memorial 501(c)(3) nonprofit with Carpenters Local 351 Business Agent Dan Morey and Ironworkers Local 55 Business Manager Eric Kahle in order to oversee maintenance and upgrades to the Fallen Trades Memorial.
The Tribute Park Memorial was established in honor of the Building Tradesmen who lost their lives during construction of the Veterans' Glass Skyway bridge and in tribute to all of the Northwest Ohio Tradespeople who have made the ultimate sacrifice in the line of duty.
Ironworkers Local 55 members Arden Clark II (47), Robert Lipinski (44), Michael Moreau (30), and Michael Phillips (42) died and four other tradespeople were seriously injured on Feburary 16, 2004 when a gantry crane collapsed at the bridge construction site; Carpenters Local 1138 member Andrew Burris (36) was killed on April 19, 2007 in a platform collapse while working on the bridge. All men were masters of their crafts, led vibrant lives, and were loved deeply by friends, family, and their union brothers and sisters.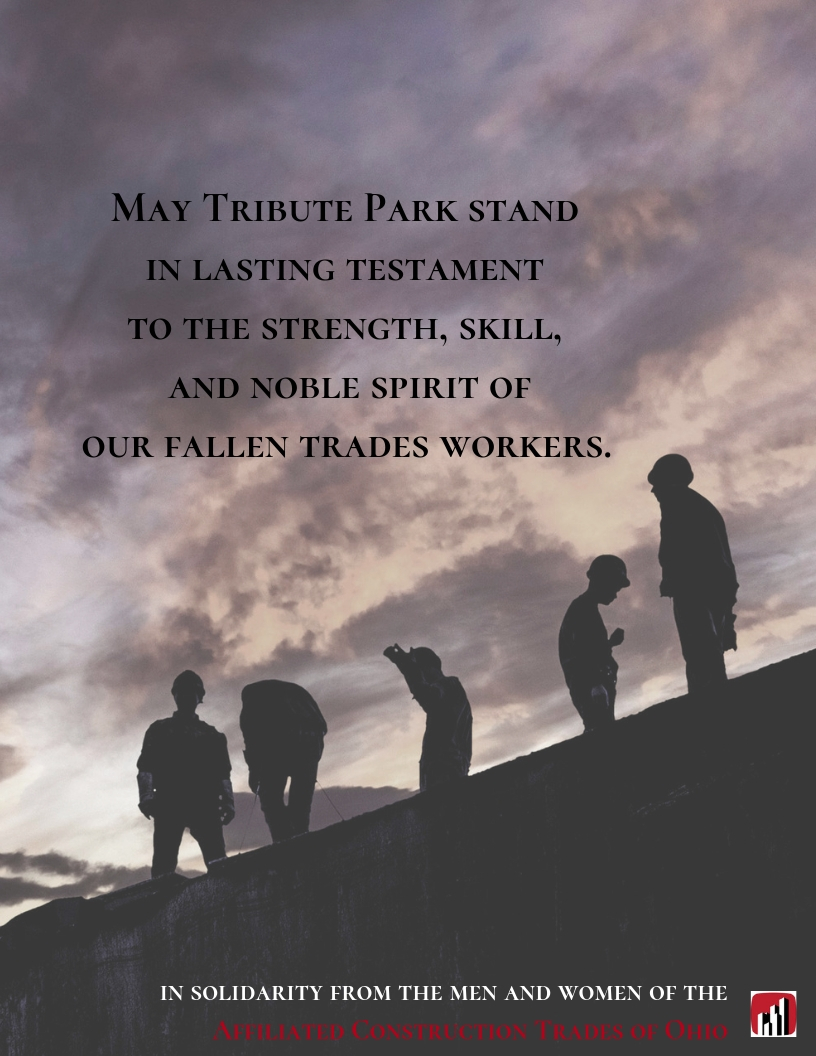 You can support the Fallen Trades Memorial (a 501(c)(3) organization) by making a tax deductible donation to the nonprofit at:
The Fallen Trades Memorial
1600 Front St.
Toledo, OH 43605