There's a pathway to prosperity for all Ohioans through union Building Trades Apprenticeships.
Increasing diversity in building trades apprenticeships strengthens our industry and the communities we build. Ohio's
Affiliated Construction Trades work to build inclusive pathways to middle-class construction careers for all Ohioans
through tuition-free, earn-and-learn JATC apprenticeships.
Learn why more Ohioans are choosing to begin their careers in our gold-standard Building Trades Apprenticeship programs: HANDOUT_StatewideApprenticeship Impact_2019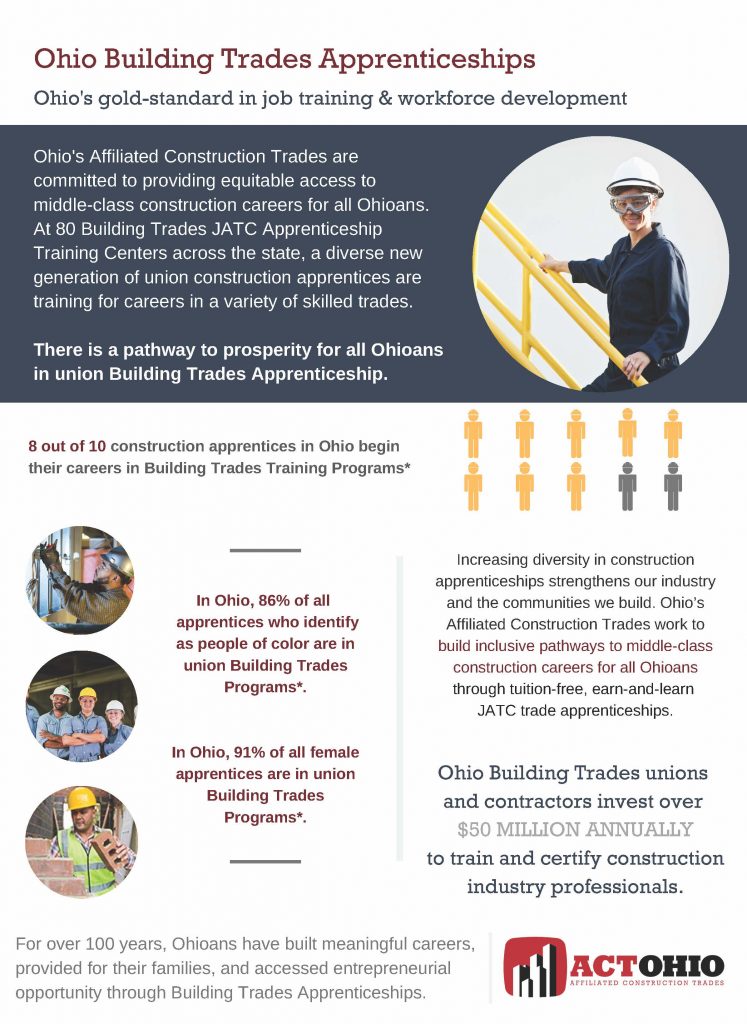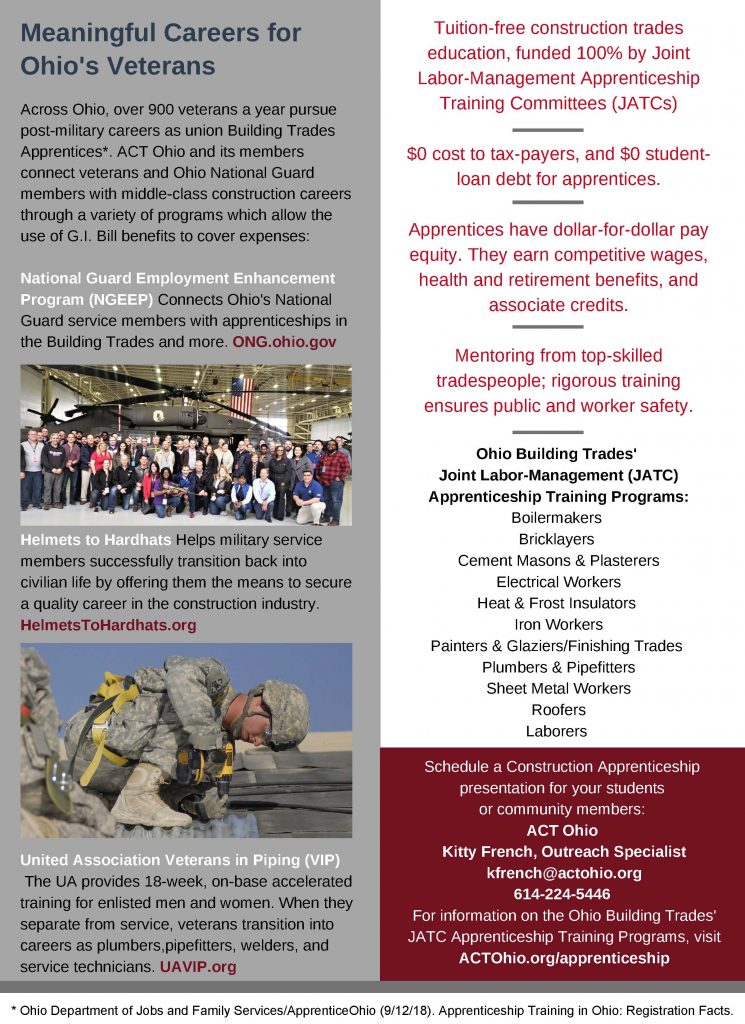 Ohio's Affiliated Construction Trades are committed to providing equitable access to middle-class construction careers for all Ohioans. At 80 Building Trades JATC Apprenticeship Training Centers across the state, a diverse new generation of union construction apprentices are training for careers in a variety of skilled trades.
8 out of 10 construction apprentices in Ohio begin their careers in Building Trades Training Programs:
Tuition-free construction trades education, funded 100% by Joint Labor-Management Apprenticeship Training Committees (JATCs)
$0 cost to tax-payers, and $0 student-loan debt for apprentices
Apprentices have dollar-for-dollar pay equity. They earn competitive wages, health and retirement benefits, and associated credits.
Mentoring from top-skilled tradespeople; rigorous training ensures public and worker safety.
Veteran Resources:
National Guard Employment Enhancement Program (NGEEP) connects Ohio's National Guard service members with apprenticeships in the Building Trades and more.
Helmets to Hardhats helps military service members successfully transition back into civilian life by offering them the means to secure a quality career in the construction industry.
United Association Veterans in Piping (VIP) provides 18-week, on-base accelerated training for enlisted men and woman. When they separate from services, veterans transition into careers as plumbers, pipefitters, welders, and service technicians.