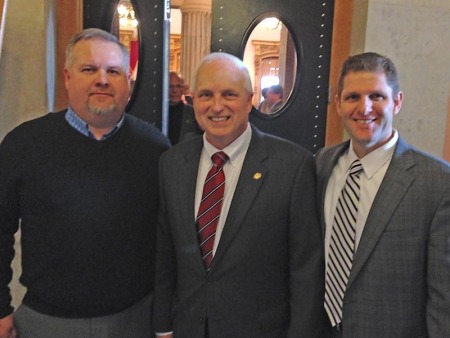 The start of a new year brought new opportunities for Ohio's labor trades. On Jan. 5, the 131st Ohio General Assembly started a new session, and ACT Ohio Executive Director Matt Szollosi welcomed, and reconnected with, legislators.
Szollosi served four terms in the Ohio House, first elected in 2006. Since joining ACT Ohio in 2013, he has worked to maintain connections with Ohio legislators, while also forging new relationships with recently elected officials.
Taking direction from ACT Ohio's Executive Board, Szollosi has worked diligently to educate legislators on issues that can help create jobs within the construction industry, promising to support and work with elected officials that promote work opportunities for ACT Ohio members, regardless of political affiliation.
During the session's Opening Day, Szollosi was on hand to watch Rep. Terry Johnson (R-Scioto) take his oath of office. Szollosi was joined at the event by United Association of Plumbers and Pipefitters Local 577 Business Manager Bobby Cole.
Johnson received an endorsement from ACT Ohio for his re-election campaign last year.