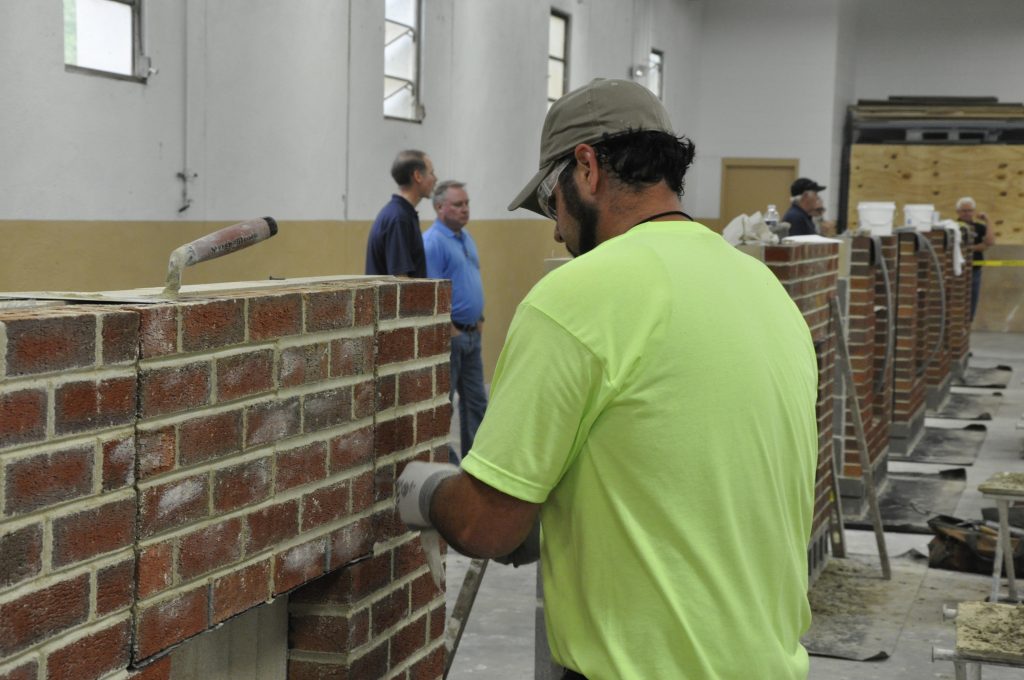 The region's top Brick and Allied Craftworker (BAC) apprentices in four building and construction trades showed off their skills last weekend at the 2015 Bricklayers and Allied Craftworkers/International Masonry Institute North Central Region Apprentice Contest in Batavia, Ohio.
In front of a supportive crowd at the Southern Ohio/Kentucky Regional Training Center, apprentices in the Cement, Marble, Pointer-Cleaner-Caulker (PCC), and Terrazzo fields went head-to-head, displaying their talent and knowledge of their chosen fields. The intense competition highlighted the vital importance of both superior training and an emphasis on safety in the building and construction trades.
As the contestants received their competition instructions, judges emphasized the importance of their training by stressing contestants should approach the contest as they would any other job.
In a four-hour timespan, the contestants showed they have the ability to become expert journeymen in their trades. All competitors displayed the expert classroom and on-the-job training they have received thus far in their budding careers. It is this training that separates the building and construction trades from their competitors.
The following competitors took home the top honors in their respective trades: Graham Lovelien, Local 19 WI – Cement; Jaymes Sanford, Local 5 OH – Marble; Chase Owens, Local 6 OH – PCC; and Kevin Marcum, Local 4 IN/KY – Terrazzo.
Overall, 11 apprentices will move on to the next and final round of competition at the national level – the four category winners and seven other apprentices (5 in PCC and one each in Cement and Terrazzo). They will join the winners from separate regional competitions held in Illinois and Wisconsin that focused on other crafts in the allied trades, including Brick, Plaster, Tile, and Stone.
The International Union of Bricklayers & Allied Craftworkers' final round of competition to determine the national champions will take place on Sept. 11 and 12 in Bowie, Md. at the John J. Flynn International Training Center.
ACT Ohio wishes all the state's competitors the best as they look to become national champions!