Today and every day, ACT Ohio and the Ohio State Building and Construction Trades Council uphold the sacrifice of workers killed on the jobsite by fighting for the safety and representation of Ohio construction workers.
In the last year of pandemic and loss, essential workers have kept Ohio and our nation strong. From healthcare workers, to grocery and delivery drivers, to construction workers, the sacrifice and commitment of these workers has been tremendous (see Pres. Biden's Workers Memorial Day Proclamation).
On Workers Memorial Day 2021, ACT Ohio commemorates the workers who have been killed or injured in the line of duty – and urge our fellow Ohioans to do their part to protect and advocate for the safety of workers in Ohio.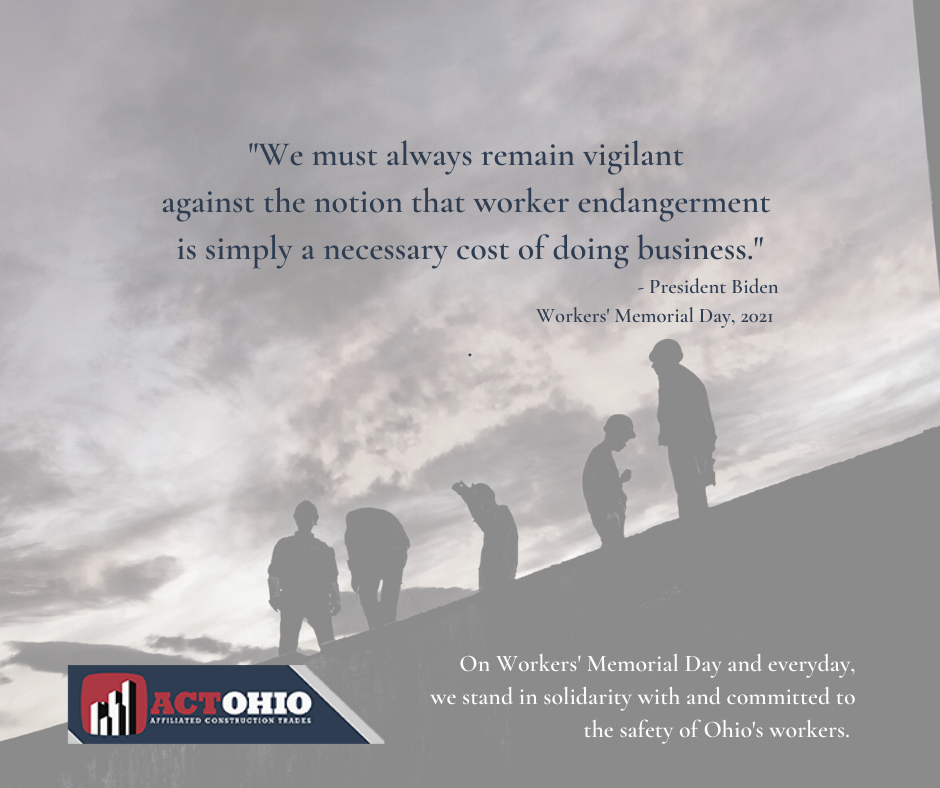 Worker safety is a responsibility we all share. You can help create safer working conditions for Ohio Building Tradespeople by:
Drive Responsibly in Construction Zones – The Ohio Department of Transportation reports that construction work crews were struck 125 times on Ohio roadways in 2020 and have already been hit more than 60 times in 2021.""These men and women are working to ensure transportation in Ohio is safe for all travelers," said Governor Mike DeWine. "All they ask in return is for drivers to pay attention and give them the room they need to get this important work done."
Respect Workplace Safety Requirements – Sadly, many workplace safety requirements and regulations only result after a worker is harmed. Respect and uphold the posted safety measures of any jobsite or workplace you encounter as an employee, a customer, a pedestrian, or a driver. Your compliance might save a worker's life – while ignoring safety guidelines puts workers at higher risk.
Stay Informed About Safety in Your Community – Worker protections in Ohio benefit all Ohioans. The highest degree of safety-training maintained by Ohio Building Tradespeople ensures that construction in Ohio's refineries, power plants, hospitals, skyscrapers, bridges, schools, and other residential and industrial settings, can be completed with zero injuries. Follow ACT Ohio and the Ohio State Building & Construction Trades Council to stay informed about safety issues and legislation across Ohio and in your community.