Cleveland Building and Constructions Trades Council and Women At Work, Cleveland Building Trades Tradeswoman Committee, is hosting a Construction Trades Apprenticeship Fair.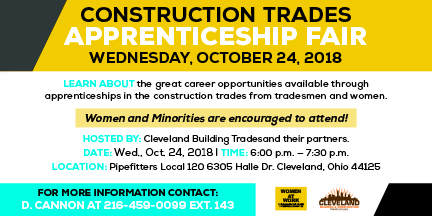 Attendees will learn about the great career opportunities available through apprenticeships in the construction trades from tradesmen and women. Women and people of color are encouraged to attend!
Event details:
Construction Trades
Apprenticeship Fair
Wed., Oct. 24
6:00 – 7:30 p.m.
Pipefitters Local 120
6305 Halle Drive, Cleveland 44125
Attendees will learn about career opportunities in the following building and construction trades:
Bricklayers
Carpenters
Cement Masons
Electrical workers
Glaziers
Heat and Frost Insulators
Iron Workers
Laborers
Painters
Pipefitters
Plumbers
Roofers and Waterproofers
Sheet Metal Workers
For more information contact D. Cannon at 216-459-0099 ext 143.