Volunteers from various Columbus/Central Ohio Building Trades locals, in conjunction with the AFL-CIO, The Union Sportsmen's Alliance, and The City of Columbus Recreation & Parks Department helped to rebuild the Antrim Park pier.
Antrim is a nearly 120 acre park, which sits on a lake and the Olentangy Greenway Trail. The 2,400 square foot deck had fallen into disrepair and required renovations to its railing, decking, and benches. This volunteer project aimed to improve the structure and to add improvements such as benches and fishing rod holders. The project lasted two weeks, with a ribbon cutting and opening ceremony held on September 22, 2016, which featured remarks from Ohio AFL-CIO President Tim Burga and the Mayor of Columbus Andy Ginther.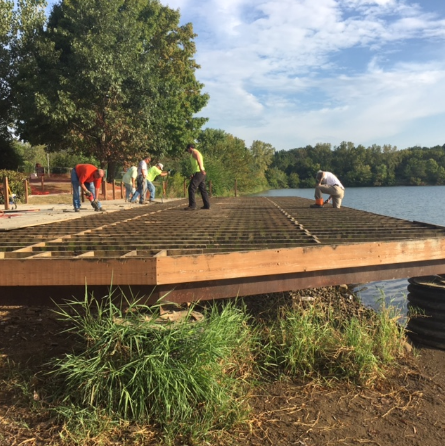 The Union Sportsmen's Alliance is a union-operated, union-dedicated, non-profit organization with the goal of uniting millions of union sportsmen and sportswomen into one community with a shared commitment to educate future generations, conserve wildlife habitat, and volunteer their time and skills for projects that improve access to quality outdoor spaces.
Walt Ingram, Conservation & Union Development Manager for the Union Sportsmen's Alliance stated, "We love doing community service projects that provide high value to citizens in the area. What helps set us apart is our skilled expertise. These volunteers have union skills and a passion for the outdoors, and it helps to unite union workers from all trades together as one brotherhood. This work helps nonunion community members to understand what the union does, and that we give back to the community, our neighbors, and friends."
Various trades volunteered on the project, including painters, laborers, sheet metal workers, bricklayers, sprinkler fitters and others. Many members took the day off from work and surrendered a day's pay to assist in these efforts, while others donated time over their weekend in hot weather conditions.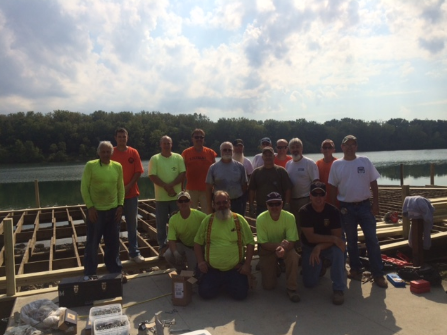 Completion of this project required $20,000 in materials. These materials are covered at no cost to the City of Columbus, as the Union Sportsmen Alliance raised these funds through their annual Conservation Dinner Fundraiser in March. In addition to the cost of the materials, the project required 1000 man power hours, 400 of which were in painting and staining alone.
ACT Ohio thanks all those who participated in these remodeling efforts.